Lesson 4
What Should I Sell?
Now that you're a pro at searching and checking you research for accuracy, we can move on to the fun stuff!
Open up your Filtered Earbuds report and take a look at all of that data. Now that we've made sure we have accurate research, we know that these results will give us the answers we need.
But what answers are we really looking for? Well, I've talked to a lot of new customers, and I know that many of you ask the same questions. So, I've organized the rest of this course to teach you how to answer these questions with HammerTap for yourself! We've gotten the hard parts out of the way, and now we're going to focus on interpreting the data in ways you can quickly and easily apply to your eBay business!
So, let's jump right in!
What Should I Sell on eBay?
Out of all the conversations I have with new customers, "What should I sell on eBay?" gets asked most often. Everyone is trying to figure out which products to sell on eBay, and HammerTap can be an invaluable resource as you embark on your own product discovery journey, regardless of whether it's your first time around the block or you're just looking for new products to add to your product line. Just remember that it is a journey, and it will take some time and effort (but all good things do!).
If we're really honest with ourselves, we'll realize that what we're most interested in when we're choosing a product is whether or not it will sell, and how much it will sell for. If we invest in a product without these two answers, we're taking a big risk, because what if it doesn't sell? We want to make sure our item is selling for at least the price we paid for it, band that we have a good chance of making a profit!
So, how do we find those products that are selling profitably on eBay? The answer is market research. HammerTap provides you with specific numbers so you can know your product will sell and for how much, BEFORE you invest and actually sell it yourself.
Take a look at your Filtered Earbuds report, and I'll show where to find these answers. Click on the green button at the bottom of the screen labeled, FINDINGS, and you will get a screen like the one shown below:

First, we're going to find out if my product will sell. Notice the graph on the right and the underlined percentage. This is our Listing Success Rate, or LSR, and it tells us that our Skullcandy earbuds sell 81.68% of the time. In other words, if we listed 100 sets of earbuds, about 82 of them would sell on the first try and we would have relist the other 18. That's a pretty good chance of selling, and it gives us an idea of the risk involved with investing in this product.
Second, we can find out how much we can expect the earbuds to sell for with our Average Sales Price, or ASP (underlined in blue). Based on my research, I can expect to sell the earbuds sets for about $12.13. Now, whether or not that's a good or bad price depends on what I can get the item for. If the suppliers I'm working with can only get me the earbuds for $12.00, this probably isn't the product for me. However, if I can find them for $5.00 a set, I might make a lot of money selling them. It all depends on your individual situation, product and supplier.
With these specific numbers from HammerTap, we're armed with the information we need to decide whether or not it's a good idea to sell a product. So, now that we can make an educated decision, how can we find the product that will work for us?
Finding the Golden Goose
First, I want to warn you. Finding the perfect product to sell isn't a walk in the park. Many sellers research as many as 50-100 products or more before they find one that is really profitable for them. I'm not saying this to discourage you, I just want you to realize that you may have to work a little to find that golden goose. But HammerTap is here to help!
When you're brainstorming product ideas, you want to start broad and gradually work your way down to a narrow and specific product. To do this we're going to start with a Category Search and the What Title Keywords Should I Use? report to find which products are selling well within a given category. So, let's dive right in!
Back in Lesson 2 we talked about searches and I asked you to try a Category and Seller search on your own (did you do it?). Now, we're going to run a Category Search together.
For our walk-through today, I'm going to imagine that I've decided I want to sell iPod accessories. I'm considering headphones, but I'm not sure if this is a good market or what kind of headphones I should sell. So, I'm going to search in the Electronics > iPod & MP3 Accessories > For iPod > Headphones & Earbuds category.

The narrower you can get your category the better. You won't be able to search first and second level categories because of eBay data policies, however, in most cases it's more beneficial to drill deeper than that anyway.
Here's my search window: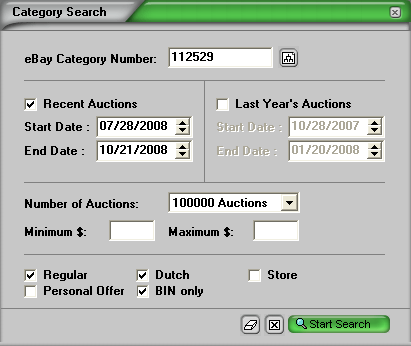 I used this button

to find the category number, and I also increased the Number of Auctions to 100,000, instead of only searching 500, like we did with our Product Search. A Category Search will include many more listings than most product searches and you'll usually need to increase the number of listings you have HammerTap look for.
Once you run this search (it will take longer than your Product Search because it's searching so many more eBay listings), open the What Title Keywords Should I Use? report. You can find this repot in the Findings Window just below the Results section.

This report shows you every single keyword that was included in all of the listing titles within this category (my research shows 94,714 listings, so that's a lot of words!). Then for each of these words, the report shows you how many listing titles the keyword was included in, and the average price and success rate of those listings. Because of these detailed numbers, this report is a gold mine as you're searching for product ideas.
In my results, the category as a whole has an LSR (Listing Success Rate) of about 36%, which isn't that great. But, before you give up on the headphone market in general, remember that this is just an average. There are plenty of products that sell at rates above 36% within this category, we just need to find them. To do that, we're going to search this list of keywords for product-specific words that sell with high success rates and good prices.
This report has a filter feature that will make it much easier to find those keywords with high success rates. Simply enter in the minimum percentage you'd like to look at into the Minimum % Sold field (I only want to see those that sold 70% of the time or more), and hit

.

This makes it really easy for me to quickly look at only those keywords that are selling at least 70% of the time (but you can use any percentage you want to). Here's the beginning of my list: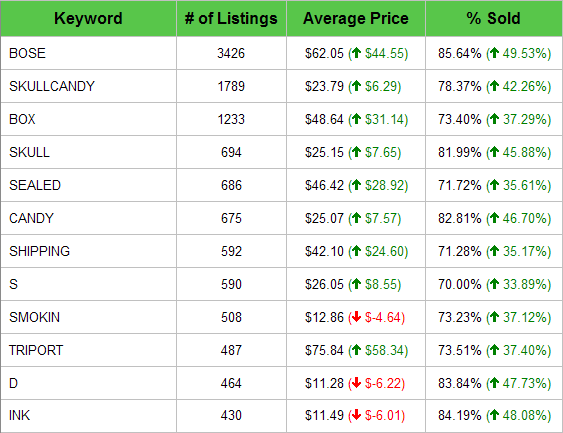 We're looking for product specific keywords (brand names, types, models, characteristics, etc.), and right off the bat we can draw several conclusions.
Both the Bose and Skullcandy brands are selling well. (See keywords BOSE and SKULLCANDY from image above, and look at Average Price and % Sold)
Skullcandy brand headphones seem to sell even better when they include a space. (See keywords SKULL and CANDY from image above)
New headphones sell at much higher rates. (See keywords SEALED and BOX from image above)
Buyers are more likely to buy a set of headphones with a good shipping deal. (See keyword SHIPPING from image above)
The Bose Triport headphones and the Skullcandy Ink'd Smokin' Buds are both models that are selling well. (See keywords TRIPORT, SMOKIN, INK, and D from image above)
Look at how far just that little bit of research took you! Now you have two brands you can look into, you have specific models for each of those brands, and you even have some selling strategy tips!
Within this report, it's important to look at the price, but remember that the average price for each keyword is not as important as the success rate at this stage of the game. Those products that are selling at higher prices are most likely going to cost you more as well, so don't rule out an option just because it has a lower average price.
This list isn't telling you which product will be your golden goose (or if any of them will be). It simply gives you the information you need to get an idea of which products are selling well. It provides you with specific directions to head with your research.
For example, if I looked at this report and decided to research Skullcandy a little more, I would want to run a Product Search. The best bet would be to search within this specific category (enter in this category number in the appropriate field in your Product Search window), and I would run a search for both Skullcandy and Skull Candy, because we noted higher success levels in our category report for those listings that used a space. Once I run my searches, I'd use this same What Title Keywords Should I Use? report to figure out which models and colors are selling well. From there… you guessed it, I'd run another more specific Product Search and figure out exactly how often I could sell a specific model and what I could expect to make on that product.
Simple enough, right?
Now it's your turn! See what you can dig up with HammerTap's powerful product discovery tools!
---
Assignment #4: Embark on your own product discovery adventure!
Let's see what you can find using these powerful tools. Run a search in a category you're interested in and see what product specific keywords you can find in the What Title Keywords Should I Use? report. Narrow it down as much as you can with subsequent product searches. Good luck!
CONGRATULATIONS! You've finished this session! If you have any questions, make sure to let our support team know!
Look for Lesson 5 in your inbox in a day or two. Or, if you can't wait, move forward to Lesson 5 right now.
Or, return to Power to Profit Tutorial Home Page