Lesson 1
It's Research Time!
Ready to take your eBay sales to a whole new level? Now that you have the most comprehensive eBay research tool available, along with thousands of your competitors´ mistakes and successes and this 10-lesson course, you are ready to power up your auctions!
Hi, I´m Steve Nye, and as an eBay Certified Consultant, I am really excited about teaching you how to use your Research Tool to get what you need out of your eBay auctions. My goal is to help you succeed using market research.
This symbol in the lesson means that I have a nifty research tip or important insight for you. Often in these tips, I will also point you to other resources that will help you become a more powerful seller.
Let´s get started, cause it´s Research Time!
This Course
During this 10-lesson course, you will get up close and personal with eBay Research and in the end, will be an eBay PowerBroker. What´s a PowerBroker? A PowerBroker is an expert at using a competitor´s wins and losses to identify specific ways to make more money on every listing. The best way to learn how to get the most out of eBay researc is to complete this course, and don´t worry, we´ll have a lot of fun too!
Some other great eBay educational resources are available in your Builder Resource Center.
Meet Your Research Tool
In a nutshell, Research lets you look at a group of closed eBay listings to discover:
Whether a product will sell and for how much
Ways to increase a listing´s chances of selling
Ways to boost your profits on each listing
Market trends for your specific product
The size of the market and your specific competition
I know what you´re thinking. This is all really great, but how does it work? Research uses licensed data directly from eBay to research market information on your specific product, a category or a specific seller. This takes out all the guesswork for you as you create you listings.
Let´s take a brief tour.
When you first open Research Tool, a welcome screen opens, giving you resources for education, support and partner companies.
The top navigation bar allows you to select which type of search you wish to perform: product, category, or seller, all of which will be covered in the next lesson.

Once you perform a search, five results windows open, which will also be discussed throughout this course.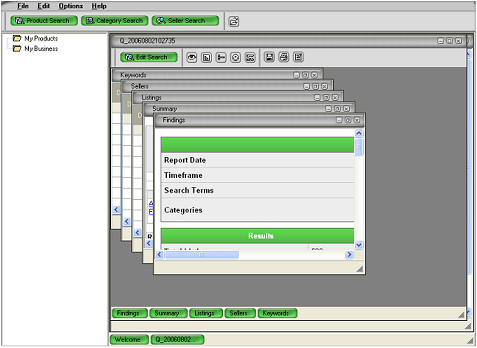 Here, you´ll discover everything you need to decide what to sell, increase your selling success, and maximize your profits. It´s just a matter of understanding which questions you need to ask and where to find the answers.
With Research, you´ll learn answers to these questions, and more, for your eBay listings:
What auction type should I use?
Which ending day will bring me the greatest success and profit?
How long should my listing duration be?
What starting price will create a bidding frenzy?
What keywords should I use in my titles to hook buyers?
What listing features will work, and which ones can I live without?
Which category will give my listing the greatest amount of exposure?
And much more!
I look forward to plunging into our next lesson, and getting started on answers to some of these questions. Until then, please complete the following quick assignment.
Assignment #1: Check out your resources
For this assignment, I want you to become familiar with the resources available to help you get the power to profit. Check out the following resources:
The Selling on eBay Series: This series helps you get started on eBay to create an immediate cash flow for your business.
CONGRATULATIONS! You´ve completed Lesson 1.