Lesson 9
Trending for Success
Hey Research Pro,
Honestly, I have to tell you. If you have toughed it out and are still with me, you are way ahead of the competition. You are also way ahead of anyone who dropped out after lesson 1 or 2. I have to congratulate you, but I´m sure you have already seen the benefits through your auctions.
So, by now you know your Research Tool inside and out, right? (I´d better see you nodding your head!) You know how to successfully research a product or category, and then optimize your listing according to your research results. However, we have only been looking at one side of the equation. Everything we have done up to this point in time has been for the current eBay market. But, an executive knows that the market has trends: general trends and trends for a specific product.
Let´s say that after the last lesson, I decided to enter the iPod 30GB market and invest in a large shipment of iPods. Although we know exactly what features to use, how long to list the item, what keywords to use, and the most effective starting price, what we don´t know is the time of the year that is best to sell. Maybe in June for graduation, or around the holidays, or even the start of summer. When do I start selling and stop selling to make the most profit?
Answering these questions will help you monitor and understand market trends for your product and category. And the best part about it is you have already learned how to do it in the previous lessons!
Using Last Year´s Auctions
A wise man once said, "You don´t know where you are going unless you know where you came from." That saying applies in this case. How can we know the upcoming market trends unless we examine the past trends? That´s where Last Year's Auction trending analysis comes in. (Don´t you love how research is constantly saving the day? Kind of like Batman used to do!)
To get started, let´s open up our iPod 30GB filtered report. Once the report is open, click
.
Your research criteria will be shown for this saved report. (Remember how we included and excluded keywords to make it more accurate?) Now, instead of looking at Current Auctions, let´s look at Last Year´s Auctions.
To do this:
Check the box to include Last Year´s Auctions.

| | |
| --- | --- |
| | Notice the dates when you select Last Year´s Auctions. Now, instead of searching closed auctions for the last month, we are searching closed auctions for the upcoming month that took place a year ago. This will tell us what happened in the market for the upcoming month last year. (Keep in mind that with Category and Seller Search, you can search info for up to a three-month period.) |

Click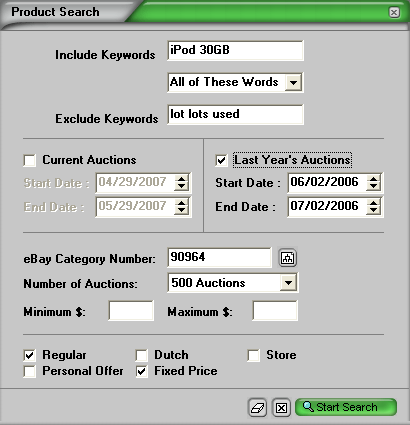 Now your results will come back in the same windows we have been learning how to use throughout this course.
Trending for Success
Now that you are looking at Last Year´s Auctions, what do you look for? How do you find the trends that will help you be successful?
Let´s go back to

, and conduct four searches for four different time frames. (Note: These time frames will be different when you do your research, and the results we examine will also be different.)
To do this:
Check the box to include Last Year´s Auctions.
Set the Start Date as the default start date and the End Date for one week later.
Click .
Repeat steps 1 through 3, except change the dates. (Set the Start Date of the second search to the day after the End Date of the first search, then set the End Date of the second search one week ahead. Repeat this step again for two more weeks—you should have four weeks´ info from last year in total.)
Now you should have four reports open. You will be able to move between these reports by clicking on the report tabs on the bottom navigation bar. Resize the four reports so you can compare the Results for each report side by side.
Now we can see the trend for ASP and LSR for our iPod 30GBs. In my results below (yours will be different because the dates are different) it looks like our iPods will have the best LSR in the first week, but will have the highest ASP in the second week. Depending on my focus (a better selling rate or a higher average selling price), I will want to consider opening and closing my auctions on the dates that were most successful for that particular focus. (Note: Week 1 may have the highest LSR because I did the research as the holiday season began. If I invest in iPods, this means that I should end my sales about one week after the beginning of December!)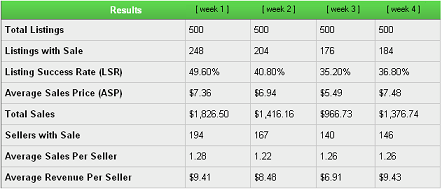 Wait just a minute! This seems like an awful lot of work just to sell an iPod! Well, you´re absolutely right. Using Last Year´s Auctions to find the trends for Average Selling Price and Listing Success Rate is more useful when you have a large inventory of products you want to move. For example, if I had a truckload of iPod 30GBs, I would want to find the peak times for selling my product. Then, as an executive, I could build my inventory around the sales trends (just like a retail store would).
Optimizing Your Auctions According to the Trends
Now that we know when to start selling our iPods according to the trends for the next month, we can find ways to optimize our listing according to the trends from last year.
This goes back to all of the techniques you have already learned in past lessons. You can go through Last Year´s Auctions and find:
What auction type should I use?
Which ending day will bring me the greatest success and profit?
How long should my listing duration be?
What starting price will create a bidding frenzy?
What keywords should I use in my titles to hook buyers?
What listing features will work, and which ones can I live without?
Which category will give my listing the greatest amount of exposure?
See how slick that is? I mentioned how executives always make sound decisions based upon facts. This is the exact type of information executives use to plan for the future. For example, I was selling Godiva chocolates for Valentine´s Day. I used Last Year´s Auctions to find out that the peak sales did not start declining until the week after Valentine´s Day. (Because of all those guys who forgot and scrambled a week later.)
This trending will not only make you a more powerful seller, but will help you more effectively build and grow your business on eBay.
Assignment #9: Utilize Last Year´s Auctions
Now it´s your turn to research your own product and check for trends. Over the next month, when is the best time to sell your product? Do the same research for your category (keep in mind that with Category and Seller Search, you can look up information for up to a three-month period). What are the category trends over the next three months? For example, does the best End Day change over time? What about the End Hour? You will be surprised at some of the trends you discover.
CONGRATULATIONS! you´ve just finished Lesson 9!