Why You Can't Afford to Follow the eBay Herd
By Steve Nye, eBay Certified Consultant and HammerTap Education Specialist
eBay publishes a report on how buyers use eBay. I found some interesting facts in it I think you'll find exciting. I won't make you wade through the whole report. I'll skip right to the meat.
Good News
I found great news for eBay sellers. Just over one third of all Internet users in the U.S. visit eBay each month! No other eCommerce site can say that. The top month of the report showed nearly 60 million monthly visitors to eBay. That's a lot of buyers.
Visitors spend more time on eBay than on competitor sites. The report showed an average of up to 110 minutes spent per visitor every month! The closest competitor was amazon.com at 30 minutes per month. And typically, where people spend their time they spend their money too.
Another Shocker
Who's using eBay? You might think since the younger generation has taken to the Internet like fish to water that they'd make up much of those on eBay. Not so. Only 7% of eBay visitors are between 18 and 24 years old. A whopping 76% of eBay visitors are 35 or older.
If They've Got It, They Can Spend It
Here's where I was blown away. I assumed a large portion of the folks buying on eBay were bargain-hunters. While that may be true, it isn't because eBay shoppers don't make good money.
Only 5% of eBay shoppers make $25,000 per year or less! 41% of eBay shoppers make more than $75,000 per year! With that kind of income, it's no secret that you'd spend more than those who earn less. eBay shoppers make way above average income. Great news for those selling on eBay.
Which Generalizations Can Cost You?
In this report eBay also tells you the heaviest traffic days are on Sundays and Mondays. It's their data, so I'm sure it's accurate. But here's the problem.
They make the conclusion that since there's more traffic on Sunday and Monday, you should time your listings to end on one of those days. If I didn't know about auction research, I'd have to go with their recommendation.
Let's Test eBay's Conclusion
Let's see if eBay's generalization about closing on a Sunday or Monday holds for various products. I picked quite literally the first three things that came to my mind: sony televisions, hoover vacuums, and plush toys.
Figure1: Sony Televisions
In Figure 1 above, we see that eBay's advice to end your auction on a Sunday or Monday improves your chance to sell (Auction Success Rate). Closing on Monday results in the best Auction Success Rate.
However, if you're one of us who wants to make more on the products you sell (and who doesn't), take another look. The Average Selling Price (ASP) on Monday is actually the WORST day to sell price-wise.
Closing your auction on Thursday actually would have made you $218 more on average! And it didn't cost you one dime more in listing fees. Without auction research, you'd have never known you cheated yourself out of over two hundred dollars.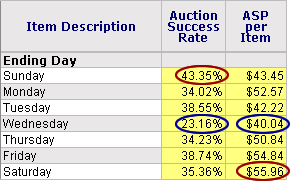 Figure 2: Hoover Vacuums
Figure 2 above shows how here again eBay's advice pays off in the best Auction Success Rate. This time around, Sunday ranks best for maximizing your chance to sell.
But again, closing on Sunday isn't your best day for price. Closing on Saturday increases the selling price by $39.7%. You make a bonus $15.92 on every item. Again, the only difference was in simply knowing more than your competition.
Let's look at one last product. Where the first two examples were electronic appliances, I wanted to pick something as different as possible. I picked plush toys.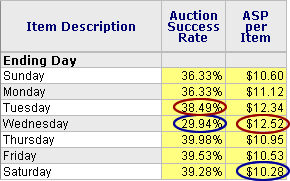 Figure 3: Plush Toys
In Figure 3 we see a case where closing on Sunday or Monday not only are among the worst days for Average Selling Price, but also among the worst for Auction Success Rate.
The only day worse than Sunday or Monday for Auction Success Rate was Wednesday. With plush toys, we're only talking about $2.24 difference between the best and worst price.
But let's say you find a source for a hundred plush toys you want to sell on eBay. That's $224 more you'd make using auction research.
Conclusion
So am I saying not to trust eBay's conclusions? Absolutely not. I'm just saying that you have to put it in context. They make their conclusions based on everything from toasters to BMW's.
If you didn't know about auction research, you'd be crazy not to follow their advice. After all, they're auction experts. But with auction research as your guide, you don't have to rely on rules of thumb and generic advice which can steal your eBay profits.
HammerTap Makes Predicting Your Success Quick and Easy
With HammerTap, you get the information you need to increase your chances to sell for more in less than a minute. Armed with real data, Kathy may get an extra dollar or two for the boots and bears. She may make as much as ten dollars more for the calculator. And it only took a couple of minutes to earn several bonus dollars.
If she earns an extra dollar or two per minute for the research she does, that sounds like a pretty great wage to me.
Make the most of your auctions with research!
Try HammerTap FREE for 10 Days and remove the guesswork!
Determining what works and what doesn't when it comes to your listings requires research. Anything less puts you at risk of not making the sale or not making as much as you could be on each sale. A research tool like HammerTap helps you bypass the costly trial and error process by quickly giving you the key information you need for profitable online auctions.
Why not take HammerTap for a FREE test drive? We'll give you 10 days to put HammerTap to work for you. Use its power to determine:
Successful Keywords
Best Auction Type For Your Products
Best Listing Duration
Which Listing Features Improve Your Chance to Sell and Which Increase the Closing Price
Optimal Start Price to Use
Best Day of the Week to Start and End Your Auctions
Seasonal Trends
And much more!
As a bonus, you'll receive 10-lesson Power to Profit course to help you immediately see the effects research can have on your auctions. We'll also throw in selling tips from Industry Experts in our members-only Auctionography newsletter.
You owe it to yourself to take the guesswork and risk out of your auctions. Try HammerTap free for 10 days. If you are not absolutely sure you'll increase your eBay profits by the $19.95 subscription price, you're free to cancel. It costs you nothing to prove to yourself there's a more profitable way to eBay.
Click HERE to See How HammerTap Gives You the Power to Profit