Where Do I Find the Most Profitable eBay Products?
By Steve Nye, eBay Certified Consultant and Research Education Specialist
"Help! eBay emptied my attic!"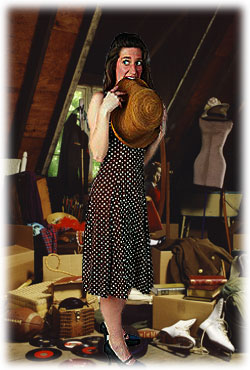 Most eBay Power Sellers started by selling their junk... "underappreciated treasures" if you prefer.
In our eBay training course, we direct students to begin their eBay selling career with a cardboard box. They walk around their home, putting various things in the box which they can do without. When the box is full, they put the items up for sale on eBay.
It's a great way to get started, since you don't invest anything. You get some experience with the process of listing on eBay.
But what happens when you run out of things to sell around the house? Eventually you've gotten rid of not only the things you own that you don't want anymore, but those you don't want which belong to your spouse, kids, etc. :)
A Nasty Addiction is Born
Many sellers begin hitting yard sales in search of treasures. Let me just warn you from my own personal experience that you'll end up with stuff that's just "too good" to part with, so it never gets sold on eBay. Notice how I'm NOT mentioning my wife's ever-growing "previously loved" teddy bear collection here.
Here's a better way. There's a growing list of companies which provide the products you need at warehouse prices. Some drop-shippers don't require a penny from you up front, so you can sell their products on eBay without risking anything more than the eBay listing fees.
Landmines and Bear Traps
I'll warn you now that not all suppliers are created equal. Some don't give you much room for profit margin.
Hidden "drop ship" fees can eat into your profits. Additionally, pay attention to who pays the shipping costs and so on. This article will arm you with the information you need to find a great supplier.
Where to Start
No list of drop-shippers and other suppliers could remain complete or timely (but we'll list a few later on in this article). That's why you need to know how to ferret them out yourself. When you begin a search for anything, where do you start? Likely, you begin with your favorite search engine such as Google, Yahoo, or MSN.
Compile a list of keywords with which to search for suppliers. Because new suppliers come online all the time, it's not enough to do this search once, so keep this list for future reference.
For example, let's say you want to find vendors for children's educational toys. You might search on phrases like:
educational toy vendor
educational toy manufacturer
educational toy supplier
educational toy wholesaler
educational toy distributor
educational toy dropshipper
Beware: When you use the word "dropshipper" in your search you'll get an endless list of businesses selling dropshipper catalogs and books. Most of these aren't worth it.
Because each search engine gives different results, don't narrow your search to just one. I typically use Google, but maybe I'll find the best vendor with Yahoo this time. Don't limit yourself.
Drop Shipping Resources
Newsletters:
Catalogues:
Drop Ship Companies:
Wholesale Bulk Companies:
Small Fee to Join Wholesalers and Directories:
Another great place to go is Ebiz Drop Ship. You'll have to join their site to use it, but it's free to join.
Creative and Unusual Sources of Products
Here's a source of products with no risk to you. A friend of mine makes a good side income selling on eBay. She found one source of products that will have you head-slapping yourself if you didn't think of it already.
Walmart, Cosco, and Sam's Club are her sources. Because of the buying power of each of these national chains, the prices they offer direct to consumers are often lower than what drop-shippers offer! They often sell for much more on eBay than these retail stores sell them for.
No-Risk Product Sourcing
Here's the part I thought was a bit clever. She buys the products she sells on eBay at one of these retailers. But what happens if her listing doesn't sell? She simply returns the item to the store for a complete refund. She only risks her time and maybe some gas money. She's never stuck with unsold inventory.
Some folks may have a problem with her product source. It does cost the retailer a bit of time to re-shelf the products that don't sell. On the other hand, they end up selling more products than they would have without her.
This may or may not be the solution for you. All I'm saying is you have to get creative. As much as I hate the phrase, you have to "think outside the box." When you do exactly what your competitors do, don't be surprised when you only make the profit they make.
And when you're the little guy, you've got to get creative and try things others don't. Your competition sure isn't telling you their secrets, so you'll have to find your own.
Make the most of your auctions with research!
Try HammerTap FREE for 10 Days and remove the guesswork!
Determining what works and what doesn't when it comes to your listings requires research. Anything less puts you at risk of not making the sale or not making as much as you could be on each sale. A research tool like HammerTap helps you bypass the costly trial and error process by quickly giving you the key information you need for profitable online auctions.
Why not take HammerTap for a FREE test drive? We'll give you 10 days to put HammerTap to work for you. Use its power to determine:
Successful Keywords
Best Auction Type For Your Products
Best Listing Duration
Which Listing Features Improve Your Chance to Sell and Which Increase the Closing Price
Optimal Start Price to Use
Best Day of the Week to Start and End Your Auctions
Seasonal Trends
And much more!
As a bonus, you'll receive 10-lesson Power to Profit course to help you immediately see the effects research can have on your auctions. We'll also throw in selling tips from Industry Experts in our members-only Auctionography newsletter.
You owe it to yourself to take the guesswork and risk out of your auctions. Try HammerTap free for 10 days. If you are not absolutely sure you'll increase your eBay profits by the $19.95 subscription price, you're free to cancel. It costs you nothing to prove to yourself there's a more profitable way to eBay.
Click HERE to See How HammerTap Gives You the Power to Profit