What Can Last Year's Auctions Tell Us About Today's?
By Steve Myers
Our lives follow yearly patterns. It's February, coming up on Valentine's Day. It's approaching "tax time." We intuitively sense it's time to start getting ready to procrastinate filing our taxes. These things are as seasonal as birds flying south as the weather gets colder. Like a flock of geese, we think little about these habits. We just do them.
But maybe we don't think about how many of our buying patterns also follow the seasons. Some of these seem obvious. As tax time approaches, we may pick up the latest tax software. Around Valentine's Day, we may need to pick up a gift for someone we care about. However, we might not think about how many computers consumers purchase this time of year.
Seasonal eBay Buying
Many products sold on eBay follow seasonal patterns. That's why HammerTap Auction Research software gives results for last year's auctions. It gives the data we need to predict patterns in buying behavior based on the time of year.
We'll take a look at Godiva Chocolates, a favorite Valentine's Day gift. By the way, if my wife is reading this... Hint! Hint!
Get in Their Heads
In selling, you'll hear about a concept called "mindset marketing." You've got to get into the heads of your customers. Dig a bit to understand their wants, needs, and fears and you'll find what makes them buy. And here's another key to understanding those who buy your products: "People buy based on emotion, then justify it with facts."
Not convinced that our purchases are more influenced by emotion than logic? Ask someone who owns a Mercedes Benz why they bought the car. You'll hear all about the superior German engineering, safety features, and other perfectly sound reasons they bought it. Phooey!
Why did they really buy it? Maybe it's a blast to drive. Maybe they like the prestige of the car. Maybe they just like how they feel driving it. When they took the car for a test drive and decided to spend twice what they'd spend on a less prestigious car, do you really believe for one minute that engineering was on their mind?
For the sake of our economy, thank goodness people buy what they want and typically not just what they need. Whole industries would collapse if they did. Here's a list of just a few products that prove we buy what we want, not what we need:
Perfume - Do we really smell that bad?
iPod Music Devices - What's wrong with the radio?
Junk Food - Does anyone really believe it's good for us?
Cruise Trips - There are quicker ways to get from point A to point B (though my wife tries to argue these are indeed a necessity from time to time)
So when you're looking for good items to sell, it's key to understand what your buyers want. The time of year is one factor which influences what they want to buy.
Let's go back to the Godiva Chocolate example. Many who buy chocolates as Valentine's Day approaches do so for a spouse, lover, or loved one. But seeing advertisements on television for these decadent treats may prompt some to buy for themselves. The approaching holiday didn't influence them so much as the advertising around the time of year. You have to think beyond the obvious to better understand your market.
What Sells When
The three charts below illustrate one-week-long snapshots describing listings on eBay for Godiva Chocolates in the weeks around Valentine's Day. As you take a look at each, let's focus on two things:
Listing Success Rate (how likely are you to sell this item on eBay)
Average Selling Price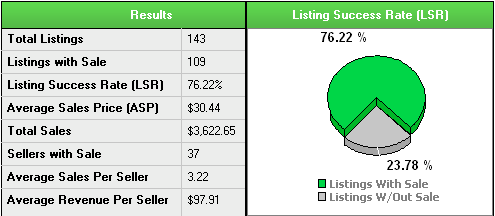 Figure 1 - Godiva Chocolates sales on eBay February 1-7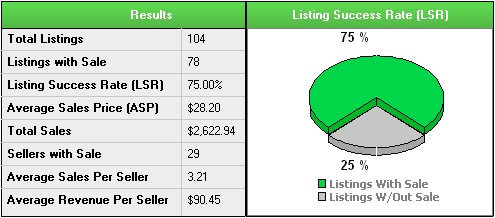 Figure 2 - Godiva Chocolates sales on eBay February 8-14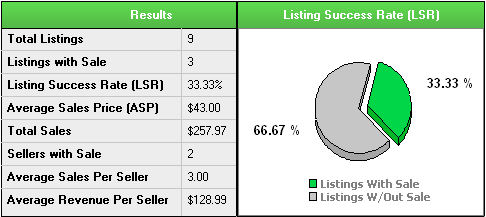 Figure 3 - Godiva Chocolates sales on eBay February 15-21
Understanding Your Customer's Mindset
So what did we discover? We find that the Listing Success Rate fell from 76% the week of February 1-7 to a low a week after Valentine's Day of 33%. Wow, what a difference a couple of weeks can make.
What else did we find? We saw how during the week where you had the worst chance of selling chocolates, you would actually sell them for more! Prices climbed from a low of $28.20 to a high of $43.00. Here's where you have to get in the mind of not only the buyer, but the seller to see why.
The Buyer's Mindset
Who are likely buyers of chocolates? With auctions closing a week before the holiday, some last-minute shoppers might purchase Godiva chocolates as a gift. As a guy myself, I can attest that procrastination is the rule here.
The Seller's Mindset
The seller has completely different drives during the weeks around Valentine's Day. They may be thinking they will have less competition after the holiday, so they can get more. It appears that indeed a lot fewer chocolates were sold the week after the holiday (9) than the weeks leading up to it (up to 143).
The Result
So how do you take advantage of this kind of knowledge? From a buyer's standpoint, we may be able to predict a dip in the price of Godiva chocolates as we approach the holiday season. Those wanting to give them as a gift know it takes a while to ship an item, so the clock's ticking. The highest price during this period of time was achieved on listings closing the week before Valentine's Day.
Why Do They Buy?
That makes sense. From a buyer's perspective, the chocolates can still arrive in time for gift giving. The lowest price during this period was the week of February 8-14, when it's too late to buy chocolates before the holiday. From the buyer's perspective, the desire for them tapers off, so the price drops as the urgency to purchase them decreases.
What's Behind Seller Pricing?
When you understand the needs, wants and fears of both the buyers and the sellers you can better understand why products fluctuate in price and demand. But do you really have time to get in the heads of your customers when you sell most products?
Actionable Real-World Knowledge
Auction research lets you make decisions based on predictable trends. You may not even care about the "why" behind it. If you find a source for inexpensive Godiva chocolates, what you most need to know is if you can consistently sell them at a profit.
Knowing last year's trends help you go beyond what's selling now. It gives you the tools and knowledge to predict eBay buying patterns over the coming weeks. You'll quickly determine when demand for seasonal product will peak.
You'll know when it may fall, helping you better determine the right amount of inventory to buy so you're not stuck with a garage full of product you can no longer sell. And worse yet, with perishables like chocolates, if they don't sell right away, they are no longer fresh. You may never be able to sell them in that case.
Auction research gives you the power to determine future profits based on past findings. It helps you avoid risk by anticipating drops in demand for a product.
Make the most of your auctions with research!
Try HammerTap FREE for 10 Days and remove the guesswork!
Determining what works and what doesn't when it comes to your listings requires research. Anything less puts you at risk of not making the sale or not making as much as you could be on each sale. A research tool like HammerTap helps you bypass the costly trial and error process by quickly giving you the key information you need for profitable online auctions.
Why not take HammerTap for a FREE test drive? We'll give you 10 days to put HammerTap to work for you. Use its power to determine:
Successful Keywords
Best Auction Type For Your Products
Best Listing Duration
Which Listing Features Improve Your Chance to Sell and Which Increase the Closing Price
Optimal Start Price to Use
Best Day of the Week to Start and End Your Auctions
Seasonal Trends
And much more!
As a bonus, you'll receive 10-lesson Power to Profit course to help you immediately see the effects research can have on your auctions. We'll also throw in selling tips from Industry Experts in our members-only Auctionography newsletter.
You owe it to yourself to take the guesswork and risk out of your auctions. Try HammerTap free for 10 days. If you are not absolutely sure you'll increase your eBay profits by the $19.95 subscription price, you're free to cancel. It costs you nothing to prove to yourself there's a more profitable way to eBay.
Click HERE to See How HammerTap Gives You the Power to Profit