Your Listing Title: It´s How Buyers Find You!
By Steve Nye, eBay Certified Consultant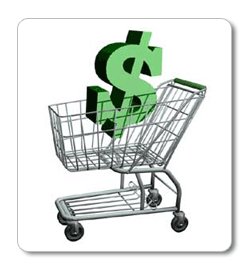 Last week I reached out to those of you who sell a wide variety of one-time products. These could be odds and ends around the house or stuff you pick up at local garage sales. Or perhaps you are a consignment seller whose clients bring a wide array of items for you to sell on eBay.
Whatever the case may be, listen up!
Now that I´ve got your attention, I can tell you to start using your listing title to grab the attention of your buyers. But not just "your" buyers. You need to grab the attention of the highest number of eBay buyers possible.
How Buyers Use eBay
There´re a few things you should know.
Most buyers come to eBay already knowing what they´re looking for. This makes the search bar their primary target, where they type in the product they are looking for.
Once they click "Search," only those listings that contain the combination of searched keywords in the title will be displayed. This means that if your title doesn´t have the keywords buyers are using in their searches, they will never find you.
The closer your listing title matches the search phrase buyers are using, the more attention your listing receives. It´s how buyers find you!
Have you noticed that I have only used the word "buyers" and not "shoppers". Same diff´ right? Wrong—but what IS the difference?
Shoppers go to the mall and don´t know what they want. They go from store to store looking for things that look appealing. On eBay, shoppers browse through categories as if they were the Gap or Williams Sonoma—stores I never let my wife go browsing though!
On the other hand, buyers go to the mall knowing exactly what they want. I went last week to Sears already knowing what I was going for. I think I surprised the salesman when I walked in and said, "I´ll take that mower."
So, in the end, it´s the buyers you want coming to your auctions. They already know what they want, and if your auction is the one in their search results, they´ll walk in and say, "I want it!"
Which Keywords to Use
Unfortunately, if you are selling a product for the first time, there´s no way of guessing the correct combination of keywords to direct potential buyers to your listings.
And even if you´re selling the product for the 100th time, it´s still hard to know what keywords buyers are using in their search terms.
Are they searching by the exact product name? Are they using a model number? What about specific sizes, styles or colors?
You could spend countless hours and lose a lot of money figuring out the most profitable combination of keywords through trial and error.
But today we´re going to take the easy route, which happens to be the most profitable. Today we´re going to use HammerTap market research.
Utilizing the Keyword Analysis
Awhile back, I was selling a product for the first time. I wanted to know how to build an effective title, so I did the research in HammerTap for a car rack I wanted to sell. After I had filtered out the auctions that didn´t apply, I opened up the Keywords window. This is where we go to get the words buyers are using in their searches.
You can see this window in the figure below.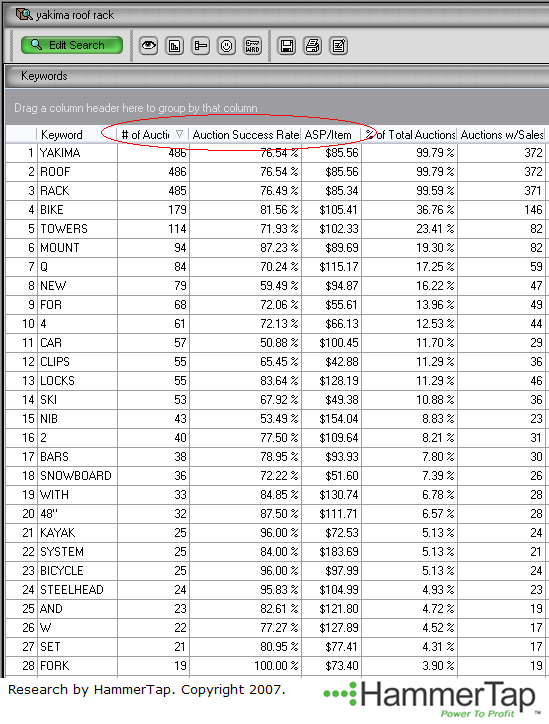 In this example, the Average Sales Price is $85.78 and the Listing Success Rate (or Auction Success Rate) is 76.59%.
We need to find keywords that increase both our success rate and our sales price. An increase in these numbers indicates that more buyers are using these keywords in their search criteria. The more buyers that find your listing, the more your success rate and your profits will increase.
Reading the Numbers
Now that we know what to look for, we can build our title with the keywords buyers are using. I highlighted a few in the figure below.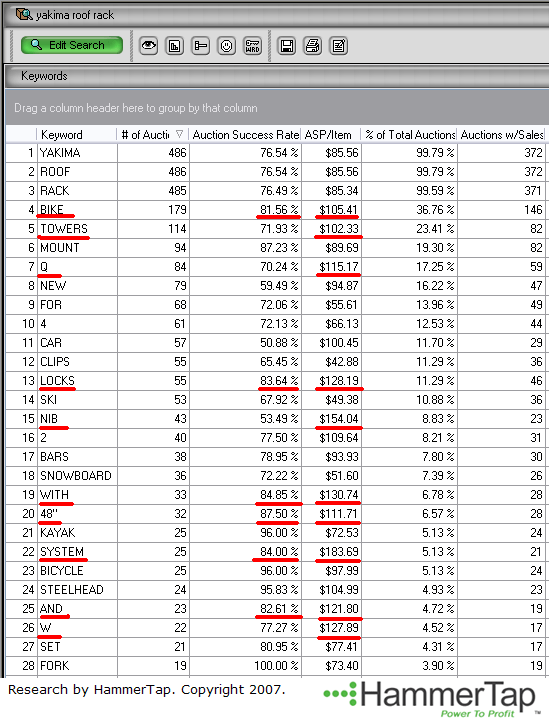 Let´s look at our ASP/Item column first. This is where we start. Every word I have highlighted increases our sales price from the average, $85, which means we are attracting the buyers (or, more accurately, the buyers willing to pay extra money when they find exactly what they´re searching for).
The real show stoppers in this case are the words "NIB" (which stands for "New In Box"), "System" and "Locks." Look at how much each word increases our profits above $85!
Once we know which words increase our profits, we also need to see if they increase our success rate. (In the example above, all do except for "NIB".) Keep in mind, however, that a lower success rate may not be as important as an increase in profit. Depending on your goal (a higher turnover or a higher profit) it´s worth taking a hit on success rate for a large jump in your bottom line (and vice versa).
Finally, I want to point out an interesting observation. Do I use "with" in my listing title or simply abbreviate it with a "w"? Your title real estate is limited, and you may not think it´s worth typing out "with."
In our case, typing out "with" has both a higher success rate than "w" (almost 85% compared to 77%) and a higher selling price ($130.74 compared to $127.89).
Creating that Perfect Combination
Now we know which words to use, we just need to plug them together. When I sold my rack system, I came up with the title "Yakima Q Towers 48" Roof Rack/Bike System with Locks."
My final sales price of more than $170 proved that our keyword analysis was accurate. This title found the buyers who knew exactly what they were looking for and who were willing to pay for it once they found it!
Make the most of your auctions with research!
Try HammerTap FREE for 10 Days and remove the guesswork!
Determining what works and what doesn't when it comes to your listings requires research. Anything less puts you at risk of not making the sale or not making as much as you could be on each sale. A research tool like HammerTap helps you bypass the costly trial and error process by quickly giving you the key information you need for profitable online auctions.
Why not take HammerTap for a FREE test drive? We'll give you 10 days to put HammerTap to work for you. Use its power to determine:
Successful Keywords
Best Auction Type For Your Products
Best Listing Duration
Which Listing Features Improve Your Chance to Sell and Which Increase the Closing Price
Optimal Start Price to Use
Best Day of the Week to Start and End Your Auctions
Seasonal Trends
And much more!
As a bonus, you'll receive 10-lesson Power to Profit course to help you immediately see the effects research can have on your auctions. We'll also throw in selling tips from Industry Experts in our members-only Auctionography newsletter.
You owe it to yourself to take the guesswork and risk out of your auctions. Try HammerTap free for 10 days. If you are not absolutely sure you'll increase your eBay profits by the $19.95 subscription price, you're free to cancel. It costs you nothing to prove to yourself there's a more profitable way to eBay.
Click HERE to See How HammerTap Gives You the Power to Profit