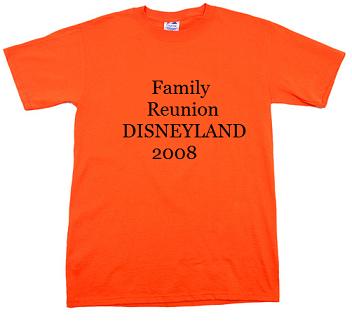 eBay Auction Keywords that Sell - Standing Out from the Crowd
By Sean Eyring
If buyers don't find your listing, they can't bid on it. Recently at a family reunion held at Disneyland, each of the 40+ members of my family wore bright orange colored family reunion t-shirts. With all the crowds of people at Disneyland that day, it was easy to know where people from our group were, because we stood out from the crowd. All we had to do was look for a bright orange t-shirt!
It got me thinking. What can you do to make your eBay listings stand out from the crowd? My first thought was to use bold, highlight or other eBay listing features. But everyone can do that. Besides, those extras increase my listing fees. What options do I have to get an "unfair advantage?" What does the competition lack that I have access to?
An auction research tool like HammerTap gives you an edge. Its keyword research features help you identify words to use in your auction listing title to place it in the spotlight. Better yet, some specific keywords can also make your product sell for more.
How to Hog the Spotlight
A friend of mine is quite a fan of the outdoors. He especially likes mountain bikes. Since he doesn't have a truck to haul his bike around, he accumulated several bike racks for his car. When he had to move, it was time to get rid of some of them. eBay came to his rescue.
Bike racks aren't rare on eBay. He'd need to find a way to get his listing noticed if he wanted to get top dollar for his bike racks. He wanted his listing to "hog the spotlight." What do I mean by that? To hog the spotlight means to use keywords which target your most likely buyers and draw their attention more than competing listings.
We found many bike rack listings. All had different keywords in their titles. So which keywords do people search with when they look for bike racks? Let's see what insights HammerTap can uncover.
Utilizing eBay Keyword Analysis
We did a quick search in HammerTap on the keywords "Yakima" and "rack." Since Yakima also sells ski and other kinds of racks, we excluded keywords "ski" and "kayak" and "snowboard." The image below shows the results.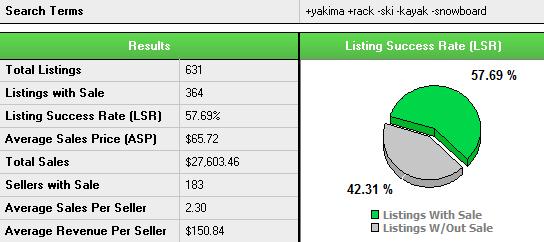 Now that we have the data in front of us, we are ready to build a title that will hog the spotlight.
Building that Winning Title
We want to find a good combination of words that give us both a high Average Selling Price and Listing Success Rate, at least higher than the averages we see here, right? When we accomplish both goals, we are using the best keywords shoppers are also using when searching for that item. How do you know this is the case? Because items with the highest ASP and LSR have the highest demand. This means they have the most bidders competing for a product in short supply.
For this item, the Average Sales Price was $65.72. Its Average Success Rate was 57.69%. So we want to use keywords which perform better than these averages.
You want to concentrate on which keywords were used in these auctions. Look for the button that answers the question, "Which Title Keywords Should I Use?" and click it. (A list of questions is located directly under the pie chart for LSR on the Findings screen).

This screen will open up and show you a baseline of the total number of listings based on your search terms, the Average Price (ASP) and Percentage Sold (LSR). Below is a list of the individual keywords used in all of the listings (in this case, all 631 listings). Next to each keyword is a column indicating how many of the total listings that particular word appeared in, as well as the ASP and LSR for that particular word. There will be a number in either red (indicating drop from the overall average) or green (indicating a rise from the overall average) for both the ASP and LSR columns for each word.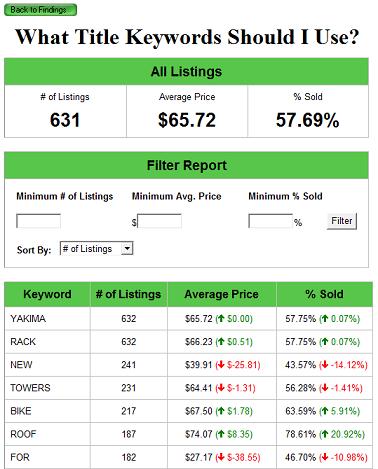 Within this screen, there is also a section which allows you to Filter your Report. You can filter by any combination of # of listings, minimum price, or minimum percentage sold. For the example below, I have filtered so I am only looking at keywords that had better than a $65.00 sale price, and better than a 70% success rate. Now I can look through the list of keywords, and find which ones apply to the product I am selling, and how those indivudual words affect the overal ASP and LSR. **Note: Just because a word has a great Average Price, and % Sold doesn't mean you should use that word in your auction if it doesn't apply to your product!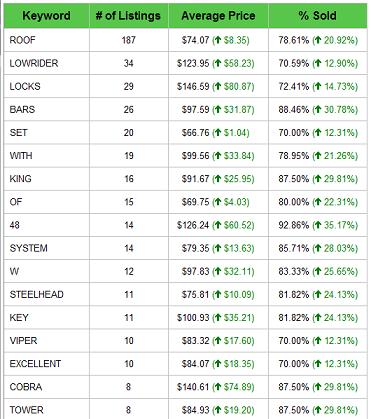 In this example the keywords ROOF, LOWRIDER, and LOCKS had the higher than average % Sold numbers (at 78.61%, 70.59%, and 72.41% respectively). Likewise these keywords also had an above average price according to the Average Selling Price columns. And these words all match the product I'm selling (a roof-mounted Yakima Lowrider bike rack with locks).
It is important to pick the highest-selling, most successful keywords in your results—but make sure the words you choose represent the product you sell.
Make the most of your auctions with research!
Try HammerTap FREE for 10 Days and remove the guesswork!
Determining what works and what doesn't when it comes to your listings requires research.

Anything less puts you at risk of not making the sale or not making as much as you could be on each sale. A research tool like HammerTap helps you bypass the costly trial and error process by quickly giving you the key information you need for profitable online auctions.
Why not take HammerTap for a FREE test drive? We'll give you 10 days to put HammerTap to work for you. Use its power to determine:
Successful Keywords
Best Auction Type For Your Products
Best Listing Duration
Which Listing Features Improve Your Chance to Sell and Which Increase the Closing Price
Optimal Start Price to Use
Best Day of the Week to Start and End Your Auctions
Seasonal Trends
And much more!
As a bonus, you'll receive 10-lesson Power to Profit course to help you immediately see the effects research can have on your auctions.

We'll also throw in selling tips from Industry Experts in our members-only Auctionography newsletter.
You owe it to yourself to take the guesswork and risk out of your auctions. Try HammerTap free for 10 days. If you are not absolutely sure you'll increase your eBay profits by the $19.95 subscription price, you're free to cancel. It costs you nothing to prove to yourself there's a more profitable way to eBay.
Click HERE to See How HammerTap Gives You the Power to Profit