By Steve Nye, Research Education Specialist and eBay Certified Consultant
This is Part 2 of a three-part series based upon a group of training courses for eBay given at eBay Live by Robin Cowie of Worldwide Brands and Jen Cano of HammerTap. Click here for Part 1.
Where did we leave off last time? Do you remember? In case you don't, let me refresh your memory.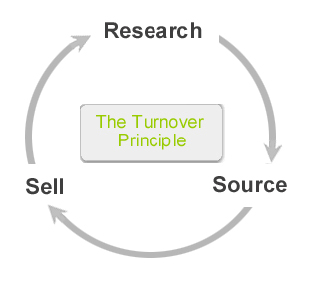 You may recall this figure, which illustrates the Turnover Principle. In Part 1, you learned the first step of the process – Research. Using research you can find out exactly how products are performing within the eBay market. Knowing both Listing Success Rate and Average Sales Price for products arms you with information to contact your Source, and begin building your inventory.
Product Sourcing, Where to Start
Once you've done your homework, you are reading to find a source for products. According to Robin Cowie of Worldwide Brands, "product sourcing is the process of researching and locating REAL manufacturers and authorized wholesale distributors that will work with online retailers."
Researching in this case is referring to the research necessary to find a reliable and trustworthy source for products. Part of your search criteria should be ensuring the validity and credibility of many "so-called" sourcing companies out there.
A word of caution is to avoid the "evil middleman." What is the evil middleman you ask? I'll let the figure below illustrate my point.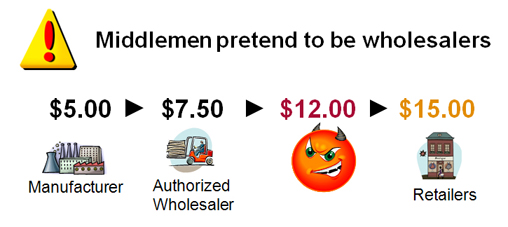 In short, the middle man is dipping into your profit margins. When you get the product for $7.50 directly from the wholesaler, you can make a $7.50 profit. However, going through a "so-called" reliable product source, your profit is cut down to only $3.00, less than half your original profit!
Product Sourcing Options
There are several options available when looking for sources for your products. Some of these options include:

Drop Shipping
Local sourcing
Light bulk wholesalers
Importing
Liquidation sales

Each of these has their pros and cons, and each depends upon your business strategy.

Sponsored by:

Click here to get products to sell on eBay right now!
Drop Shipping
Drop shipping allows you to sell products without having to purchase the inventory directly. So, you don't actually pay for the item until you sell it. Also, you never even see the product because the drop shipper ships the product directly to the customer for you.
It's often good sourcing practice to use a drop shipper to test the market for a specific product. This can help you decide if you should move towards making a larger investment with a bulk order of the product.
| Pros | Cons |
| --- | --- |
| No inventory storage required | Wholesale cost is higher |
| Perfect for testing products | No control over shipping |
| Good to up-sell additional products | Easier to do, so more competition |
Local Sourcing
Local sourcing is finding products (typically used) from local sources such as estate and yard sales, thrift shops, and local outlet stores. This is a good technique to help you get started immediately in finding products to sell, but it is the most limited type of product sourcing. While you can sometimes find a gold-mine product, there is no guarantee you will ever find it the second time around.
| Pros | Cons |
| --- | --- |
| Perfect for learning the ropes | Not a renewable product source |
| Good for casual eBay sellers | Time consuming |
Light Bulk Wholesalers
If you are serious about selling a consistent product long term, then using a light bulk wholesaler is most likely the best option for your business. Using a light bulk wholesaler allows you to purchase small-bulk quantities of products at wholesale prices.
However, in order to work with such suppliers, you need to be registered as an official business, including having a business or tax ID number, in order to do business with light bulk suppliers.
| Pros | Cons |
| --- | --- |
| Better wholesale pricing | Storage space required |
| Control over inventory and shipping | If products don't sell, you're stuck with inventory |
Importing
Importing is the best option to ensure the greatest profit margin for your sales. The obstacle lies in setting up an import from another country, which can be very difficult, time-consuming and risky. However, once established, repeat imports are much easier once the channel has been created.
You would only want to go this route after you have done extensive research for both the product within the market (HammerTap) and for the importing company. You will also only want to place an order after you have sufficiently tested the product with either drop-shipping or light bulk sales.
| Pros | Cons |
| --- | --- |
| Great profit margins | Customs |
| Good for unique items | Import scammers |
| Good for bulk orders | Requires a large inventory |
Liquidation Sales
Liquidation sales are typically bulk lots of merchandise that are being sold in an attempt to recoup some of the loss when a retail company goes out of business. You've heard the ads before I'm sure: "Rock-bottom prices!" or "Everything must go!"
Now you know that the next time you hear this on the radio, you should go check it out for possible sources to sell. However, don't forget that if you haven't done your research beforehand, you still need to perform a search and see what your chances of selling and profit margins may be.
| Pros | Cons |
| --- | --- |
| Below wholesale prices | Not a renewable source |
| Higher profit margins | Sometimes products didn't sell for a reason |
Product Sourcing Formula
With all of these sourcing options available, how do you create a balance of each to maximize sales and profitability?
Robin Cowie gives us the Product Sourcing Formula.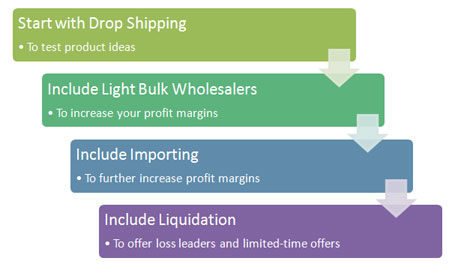 Now you have mastered the first two steps in the Turnover Principle – Researching and Sourcing. What's left?
Sell!
Look forward to the next issue when we conclude this series on Product Sourcing and Research with a special issue on selling products to maximize profitability.