By Steve Nye, eBay Certified Consultant
This last week I went to eat at a seafood restaurant that was heavily decorated with a variety of fishing poles, nets and hooks. I was surprised by the various large and small fishing hooks and lures. Some of these lures were as large as the fish I caught as a kid. Obviously this large of a lure with large hooks is used to catch a very large fish. For fisherman, choosing what size of hook to use will determine the size of fish that will be caught. In order to catch a big fish, you need just the right hook size—not too large and not too small.
That got me thinking. In order to attract and "catch" the highest-paying bidder on eBay, you need just the right starting price—not too large, but not too small. Too small of a starting price allows the buyer to steal your bait, which is your product, for a very low price. Too large of a starting price often doesn´t attract bidders, especially if they can start the bidding at $10 versus $100.
Today I am going to show you how to set just the right start price for your products. By the way, at the restaurant I ordered jumbo shrimp, stuffed with crab and wrapped in bacon. Let me tell you, if you could sell those online, you would make a fortune. They were so so good!
Using the Auctions Window
To get started, open HammerTap and research a product you´re currently selling or planning to sell. Once you have your results, go to the Auctions window. This window displays every auction included in our research results. The auctions are actually links that access the original closed auction on eBay.
This window also has many columns that can be viewed by scrolling to the right of the screen. Look at the Total Sales column and click on the column heading. By clicking on the column heading, the data is sorted in ascending or descending order. (Notice which way the little arrow is pointing. That tells you which way the data is sorted.)
You can sort your results by any column heading and compare that column to other columns. Now let´s use this feature to find the size of hook we need to go fishing. (Note that we are going fishing and not "phishing." Big difference!)
Setting Just the Right Starting Price to Hook the High Bidders
To set that hook with the highest bidder, you need an effective start price. To find out what that price is, we will use two different techniques within the Auctions window. But you may be asking yourself, "Why don´t you just give me the average starting price in the executive summary and save me the time?" Setting an effective starting price using data is an art form and cannot be taken lightly. Okay, it´s not that serious, but it is important.
The point is, if you took the average start price for a specific product, you would have a range of start prices from $0.99 to $50 or even higher. That average will not give you the start prices that will give you the highest profit. You´re setting the size of your hook based upon the average of all hook sizes and not upon the size of fish you want to catch. In order to get that start price, you need to compare the items with the highest Average Sales Price (Total Sales column) with the Start Price.
To do this:
Make sure the auctions are sorted by Total Sales in descending order.
Left-click and hold on the Start Price column and drag it next to the Total Sales column.
Drop the Start Price column next to the Total Sales column. Green arrows will appear to show you where to drop it. Let go of the mouse button to drop the column.
The image below is an example of what your Auctions window should look like.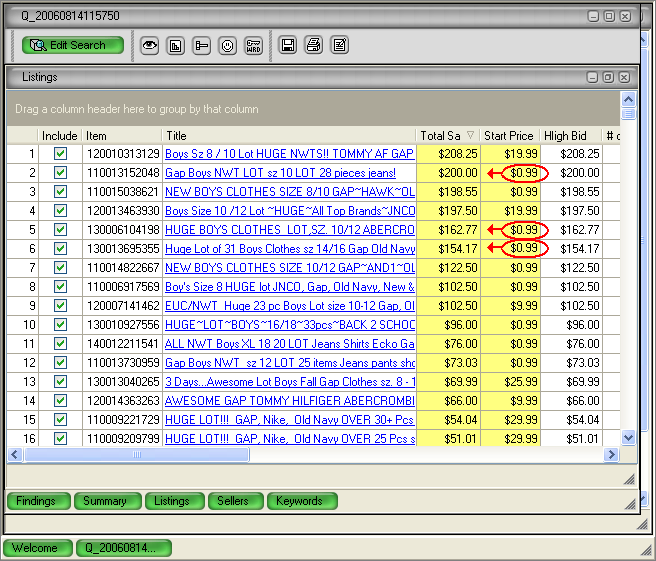 Click on the thumbnail for a larger image.
Now you can see why I said that setting an effective start price is an art form, just like selecting the right size hook to catch a fish. I´m sure you see items listed all the time that have a start price so high that no one is willing to bid on them On the other hand, some are set so low that they cannot create enough bids to get the price up where it needs to be.
There is one more way you can move the data to look at this from another angle. Remember, as an executive decision maker for your eBay business, you want to look at this from as many angles as you can.
To do this:
Left-click and drag the Total Sales column heading up into the grey area labeled "Drag a column header here to group by that column" and drop it. Your screen will change, having only the Total Sales listed on the right.
Left-click and drag the Start Price column and drop it next to the Total Sales above. Now the data is grouped by Total Sales and Start Price.
Click on the plus box next to the Total Sales—it will open to display the Start Price fields.
Look at a few of the high priced items to find the best category to list your product in.
The image below is an example of what your Auctions window should look like.
Click on the thumbnail for a larger image.
To go back to the Auctions window:
Click and drag the Start Price column heading up until an X appears, then release. This automatically puts that column back with all the other columns.
Repeat step one for the Total Sales column heading.
Removing the Guesswork
The two techniques explained above show you the big fish that were caught and what size of hook was used. Knowing what size of fish you want to catch helps you determine the size of your hook. I know many of you feel like setting a good start price is often a gamble, just like fishing, so here are a few tips to remember when setting that perfect start price.
The start price should not be the same as your reserve price (the lowest price at which you will sell your product)—it would most likely be too high for buyers.
Although a low start price creates a bidding frenzy, it often does not reach the desired sales amount—make sure you do not set your start price too low.
Price mark your starting price. For example, instead of $10, use $9.95 or $9.99. Shoppers are most familiar with this type of pricing in brick-and-mortar retail locations. This can also help you save on eBay fees.
The key, however, is to utilize the research results. HammerTap shows you both the starting prices that were effective and those that were not. Look and see how much money you want to make (how big of a fish do you want to catch) and then determine the starting price (size of hook) you need to draw in the high bidders. Using these techniques will allow you to list you items with confidence, knowing exactly what fish you can reel in with your starting price.
Now, go on and research your other products and determine that perfect starting price! I will look forward to seeing you next week.
Good luck!
Steve