Brian Clark
Vice President of Product Development and CTO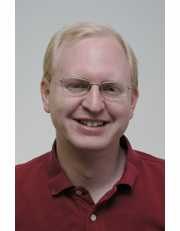 Brian Clark has been employed as a professional Internet software developer for more than 11 years. He graduated with a BS in Computer Science from Brigham Young University in Provo, Utah, in 1995. Since that time he has held positions as a Developer, Architect, Chief Architect, Project Manager, Technical Product Manager, and Department Manager.
Before coming to HammerTap, Clark gained professional experience through his work with Qcomm Inc, Xactware, and InsureQuote. Clark has experience with database administration (Oracle, MySQL, and MS SqlServer) and numerous programming languages (Delphi, Paradox, C/C++, PHP, Java, ASP, JavaScript, XML, HTML, LiveWire, and SQL). Clark has also managed software projects ranging from insurance rating software to Internet business software. Following the acquisition of HammerTap, Clark led the development team in the creation of PowerWeb, the most recent research innovation.
Clark is the mastermind behind many of HammerTap's newest innovations, including the integration with ProStores, in which merchants can import their entire inventory list into the HammerTap research tool for quick, automated research.