HammerTap Product Line
Rich Market Research. Dedicated Support. Confident Education. It´s the Power to Profit.

Get All These Products with Your HammerTap Subscription:
PowerDesk Edition
Rich Market Research
What should I sell and how should I sell it? If you´re looking for answers to these questions, we´ve created this tool with you in mind. This powerful tool is intuitive, easy-to-use, and right on the money every time.
Find out which products have the most profit potential for you.
Optimize your listings to make a bigger profit.
Save money on unnecessary listing fees, and make more money with the right listing investments.
Discover how big the demand is for your product.
Keep a close eye on the competition.
Know exactly which keywords will attract the highest-paying buyers.




With the PowerDesk edition, you can also save an unlimited number of research files and rearrange the data to view it in ways that make the most sense to you.
"The HammerTap product is perfect for the seller who´s running their business on eBay. I highly recommend it. This is money you can´t afford NOT to spend. You´ve got to check this out!"
Griff: Dean of eBay Education, host of eBay Radio, and author of the Official eBay Bible

"When it comes to making money on eBay, research is where the rubber meets the road—and HammerTap is the Ferrari."
Skip McGrath, Celebrated eBay Education Specialist
Back to Top
HammerTap Tour
Follow our Staff Through the HammerTap Video Tour
We have created a wonderful video tour to explain what Market Research can do for you. Click on the Image below to take the tour!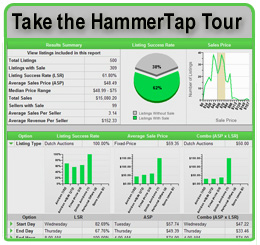 "HammerTap research increased my eBay profits more than 20%. The starting price analysis was nothing short of amazing and revealed an unexpected way to draw more buyers to my auctions."
Chris Murch, President of WSRadio, home of eBay Radio and Entrepreneur Magazine Radio.
Back to Top
PowerWeb Edition
Rich Market Research
The HammerTap PowerWeb tool provides you with access to rich market data on the go. PowerWeb is included with your PowerDesk subscription and includes many of the same capabilities. every time.
With PowerWeb you can:
Check a product's market supply and demand before you invest.
Find out exactly how to attract the highest-paying buyers.
Set the start price that will make your listing the one buyers can't pass up.
Find the ideal days and times to start and end your listings for the highest profits.
Discover the most profitable title keywords.
"The days before I had HammerTap were hit and miss when listing items on eBay. Now I have the info I need to succeed. Thank you HammerTap for taking my business to the next level!"
James Garvin, HammerTap customer
Back to Top
Power to Profit Course
10 Simple Research Lessons
During ten simple sessions, we´ll teach you how to use HammerTap research to figure out how to take advantage of your competitors´ successes and failures. The best part is that you don´t have to make any of their mistakes to tap into this knowledge. You can dip your foot into the market pool with virtually no risk. That is the purpose and the power behind market research.
You´ll receive a link to your first lesson just days after registering, and the lessons will keep coming every few days until you´ve received them all.