Lesson 5: Making Executive Decisions with the Facts
Hello again Powerful Protégé,
I hope you enjoyed Lesson 4, and that you are enjoying your "baked" research recipes. Today we will learn some of the same ways to power up your auctions, but from an executive point of view.
Why do I say executive? Are you serious about taking your auctions to the next level and increasing your income? If you are, then you are on your way to becoming an executive of your auctions and for some of you, an executive in your online business. But, in order to be the executive, you need to begin thinking like one and today´s lesson will teach you how to do that with the Executive Summary, in the Summary window. (The nice thing is that you don´t have to wear a suit and tie to become an executive. I prefer shorts and flip flops as my executive dress of choice, just as long as I think like one!)
Introducing the Summary Window!
The Summary window has much of the same information contained in the Results section of the Findings window. The difference however, is that the Summary window serves as the Executive Summary of your research. It contains the "hard facts" about your auction, which are the numbers. Don´t be afraid of the numbers, because in a few minutes they will become your best friends.
Let´s go back to our iPods and take a look at the Executive Summary. Don´t forget to open the iPod 30GB filtered report.
To open a saved report:
Open HammerTap.
In the left Research Library column, click on the plus sign next to My Products (remember, this is where you saved the report in Lesson 2). The saved reports will then appear, and we want the report titled iPod 30GB filtered.
Right-click on iPod 30GB filtered and select "View Report." The report will then open in the main window.
Once you have the report open, click

.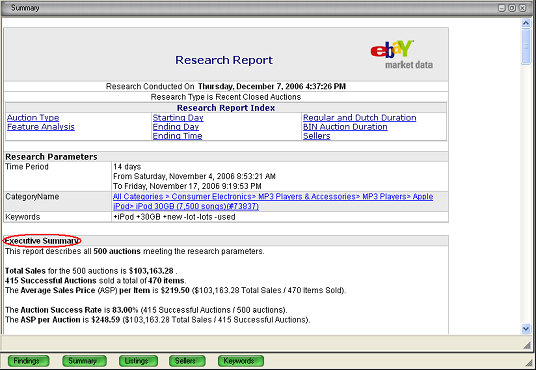 Thinking Like an Executive
So why do we need this window if it has the same information as the Findings window? That´s a good question. For an illustration, scroll down to the Ending Day section.

In this section you will notice all the columns. There are three that I want you to pay particular attention to, and these are the ones that are highlighted.
Number of Auctions: This is an important number that executives look at. For example, if you saw that 100% of BIN auctions sold, but only three auctions were BIN, you may not want to put all your eggs in the BIN basket. Higher numbers of auctions give you more accurate results.

| | |
| --- | --- |
| | If you have some auctions that have 100% LSR and high ASP but are unsure of their validity because of a low number of auctions, you may want to increase the number of auctions you are searching through. If you used 500 auctions, increase the number to 2,000 and see how your results change. |

Auction Success Rate (same as LSR): You already know why this is important from Lesson 4. This tells you your chances of selling.
ASP per Auction: This one too! This column tells you how to make more money on each sale.
Now that we now what to pay attention to, let´s examine this report with our executive eye. We can see that I have the highest chances of selling if I end my auctions on Sunday with 88.73% LSR. However, if I want to make more money, I need to end my auctions on Thursday, making about $226.66 per sale. I can see that although I lose 4.22% in my rate of success, I gain $10.85 in profit. Ending on Friday would boost my success rate over 1% higher than if I were to end on Thursday, and give me a few dollars more than on Sunday. However, a few dollars and a 1% rate increase in my chances of success may not be enough persuasion. In this case, I would have to decide whether an improved chance of selling or an improved profit margin is more important.
As an executive, you need to ask yourself this question, "Can I make more money selling more products at a lesser price, or buy selling fewer products at a higher price?"
Executives look at these numbers from all angles to increase sales and maximize profits. You can do the same thing with your own auctions. Pretty soon you will start to notice little trends and make conclusions as to why certain things work while others don´t. For example, my friend sells polo shirts online, so I took the liberty of doing some research for him. I found that if he ended his auction at 6 a.m. Pacific Time, he could make about $15 more per shirt. This was a strange phenomenon, and the only conclusion I could come up with is that businessmen are getting to work early in the morning and hopping on eBay before they start their workday. That´s when they are buying their polo shirts, not late at night.
Another Angle
Let´s look at Listing Duration for another example.

We can see that a 5-day listing duration has a huge ASP at $230.43. But look at the number of auctions. Only 40 auctions out of 385 were listed with a 5-day duration. As an executive, you want to know why those auctions sold so high. This is when you would want to go to the Listings window and look at each individual auction that sold with a 5-day duration. By clicking on the link, you can go to the closed auction and see if there was some other factor that made it sell so high. Was it the pictures? Product description? Or was it something else? This is what makes executives tick, and believe it or not, soon it will be what makes you tick!
That is something that you could never figure out through trial and error. Executives make decisions based upon the facts. And now that you have the facts, you can make sound decisions about your auctions without the guesswork!
Now go ahead and look through the other features with your "all-seeing executive eye!"
---
Assignment #5: Become the executive of your auctions
Now it is time for you to become the executive for your auctions and begin making sound decisions based upon the facts. Research an item or two you´re thinking about selling on eBay, or open up a saved report for one of your products. Carefully look through the various features to optimize your auction in the Summary window.
Begin making executive decisions and list your products without any guesswork.

Keep your facts fresh! Now that you have optimized your auctions with the Findings and Summary windows, you no longer need HammerTap, right? Wrong! Executives don´t make decisions for this quarter based upon the facts of the last quarter because the economy and markets are always changing. They rely on accurate and up-to-date facts. As the executive for you business, you can do the same thing by continually researching your products once a week or at least once a month to monitor changes in the market and keep your facts fresh.
How did you do? It´s time to let me know that you´ve completed the lesson. Also, as always, if you have questions, please let me know! I´m here to help you.
CONGRATULATIONS—you´ve finished this session! Have questions? Our support team is standing by to assist you.
Look for Lesson 6 in your inbox in a day or two. Or, if you can´t wait, move forward to Lesson 6 right now.
Or, return to Power to Profit Tutorial Home Page